Documents, whether they're paper or electronic, are an essential part of any business. Whether you're a locally owned health clinic or a growing Fortune 500 company, managing information can be challenging. In a world that is becoming more technologically advanced, document management remains critical, especially with the rise of cyber threats. However, one solution that proves to safely secure your company's confidential information is online document storage.
Why Switch to Online Document Storage?
While storing every paper in a file cabinet in the corner of the office may have worked for decades, this basic file system will not last in the digital world. As technology advances and your organization evolves, these 8 benefits of online document storage prove that it is time to bring your company into the 21st Century.
1. Improve Employee Productivity
Your employees' time is valuable and managing multiple versions of paperwork can become challenging and time consuming. Whether it is time gained from tracking down files or providing edits for the upcoming employee handbook, online document management improves productivity by giving employees more time for their work.
2. Enhance Security
Security and document storage go hand in hand. In a digital world, keeping your confidential information is crucial. With Kraft's digital document management, your files will have multiple security features including encryption, access control, and authentication systems in place to ensure that only those who see the files are the ones that should. Achieving the same level of security with physical paperwork is much more difficult as there is no traceability. You can keep your files under lock and key, but the physical key could be misplaced at any time.
3. Disaster Protection
Storing physical documents is risky as disaster could strike at any time. Fires, floods, tornados, earthquakes, and any other natural disaster could destroy years of valuable information. By storing your documents online, especially in a cloud-based solution, you will be able to easily recover and back up information in the event of a disaster.
4. Better Team Collaboration
In 2020, remote work became the norm as offices closed their doors and employees had to juggle the challenges of working off-site. Many organizations struggled with how their employees were going to get the files needed to complete their jobs, but thanks to online document storage it was made possible. Electronic storage allows employees to access the documents they need when they need them. Kraft can assist in assigning access rights through the system so that there will be a log created of who accessed, modified, created, or even deleted documents. Online document storage also improves team collaboration as employees from across the different departments and various locations can work together as long as they have internet access and authorization.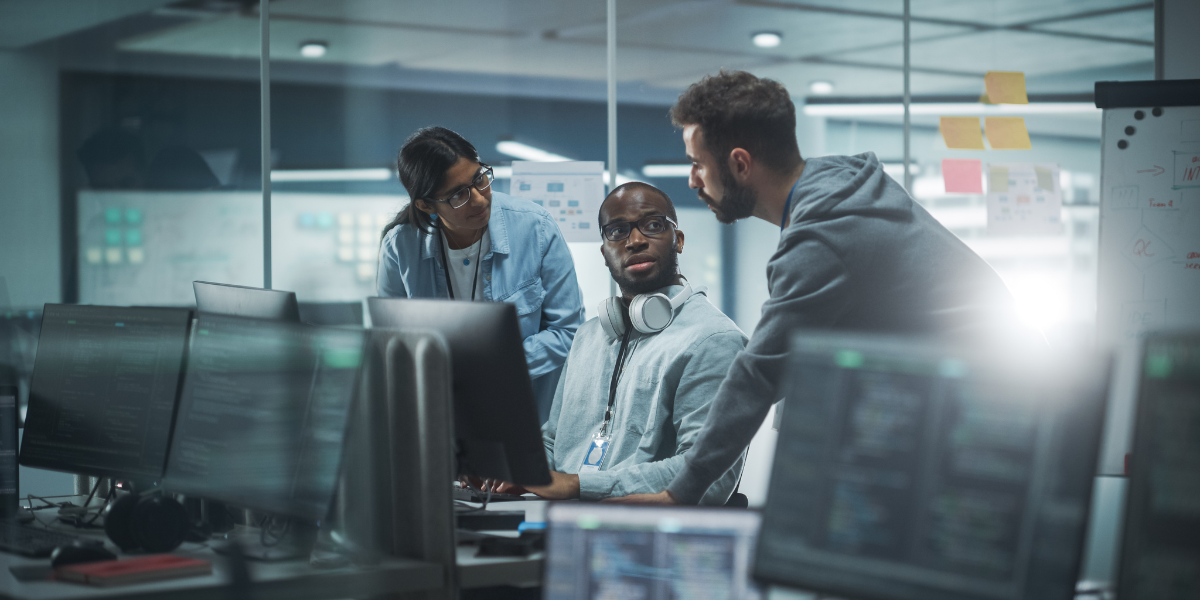 Online document storage allows for better team collaboration
5. Free up Physical Space
File cabinets are not small, with the average file cabinet taking up about 17 square feet of office space. By switching from physical to digital file storage, your organization will be able to repurpose office space or even downsize to reduce the cost of renting. You will also no longer need to purchase additional file cabinets or spend time rummaging through cabinets to find what you need.
6. Consistency
As your organization grows, it can be difficult to remain consistent. Updating, formatting, and storing similar files, in the same way, can be incredibly difficult. However, implementing an online document storage solution gives your employees the ability to create, store, and manage files in the same way.
7. Regulatory Compliance
Depending on your industry, compliance requirements for some documents may be complex and can lead to fines, revoked licenses, and criminal liability. With secure document management systems in place, your organization reduces its risk of non-compliance.
8. Easy Integration
Whether your organization uses 5 applications or 500 to get the job done, online document management software that can easily integrate with legacy systems is critical. With Kraft, your marketing, logistics, accounting, and any other departments will be able to access their documents with ease once implementation is complete.
Let Kraft Manage Your Online Document Storage
Inefficient document storage can lead to lost time, resources, and lead to more challenges than your employees deserve. By investing in a high-quality and secure online document management system, you will improve productivity and have peace of mind that your organization's data is safe and secure. Kraft Business Systems not only offers document management solutions but IT as well to ensure that your data is stored securely and protected from cybercriminals. If you're looking to improve your business's bottom line, contact a Kraft DMS expert today.